Home > Policy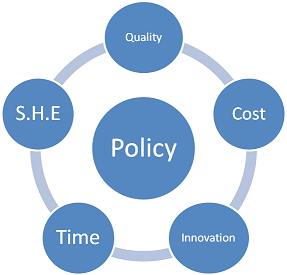 Co-Make Policy Statement
Co-Make focus on maintaining a strong and competent service, treating clients as mutual partners and working with sub-contractors, suppliers and our workforce fairly and ethically.
We strive toward finding new opportunities to work with clients and specialists in the development of pioneering and sustainable design within construction and management.
Quality
Co-Make is committed to set quality objectives and targets that lead to continuous improvement in quality performance, carry out works in compliance with statutory requirement, client specifications and our in-house standard and review quality targets and performance for suitability and continual improvement.
Time, Cost and Innovation
We operate a quality management system that is fully compliant with BS EN ISO 9001:2008. it is our goal to safely complete all projects on time, within budget and to the required quality.
Through excellent planning, employing quality people, and a commitment to innovation and value engineering we understand, meet and exceed the needs and expectations of our clients.
Safety, Health and Environment
Co-Make is committed to planning and executing all operations in a manner that safeguards the health, welfare and safety of all employees, sub-contractors, suppliers and clients. We will continue to work at all levels of the business to guarantee safety is our highest priority and strive to become an 'injury free workplace'.